Mike Lu, Senior Sales Representative, Milesight Technology (Nx pavilion)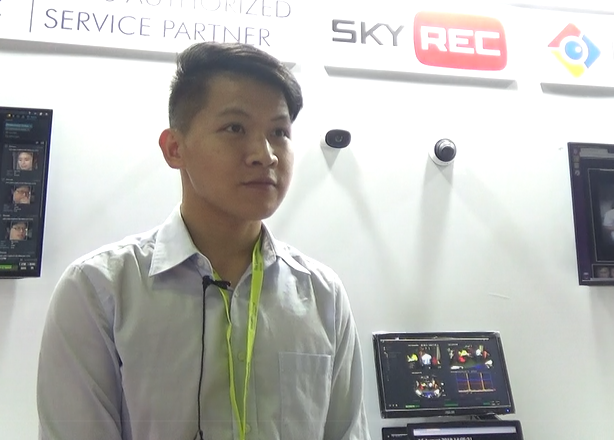 "Established in 2011, Milesight is a manufacturer of cameras, NVRs, VMS, CMS and software products. Two products on display this year are our mini bullet motorized camera, which features IK10/IP67 rating and built-in microphone, and our 180-degree panoramic camera, which is ideal for event and commercial venues requiring wide angle views.
Technology is important to the market. On the front-end, Milesight has H.265+, Starlight technology, backlight and low light compensation, as well as features like AI-based software, LPR and facial recognition. Our NVRs and VMS on the backend can integrate and process the data.

Vietnam's GDP is rapidly growing alongside good FDI, rise in tourism, and increased investment in surveillance projects. Milesight products are being applied in several local projects, like our ongoing project for Saigon Pearl , but overall, we're still building our brand in the local market.

The visitor traffic at Secutech Vietnam has been pretty good and we achieved our target at the show. We have invited some of our partners to the show to introduce our products to them and better understand the local market." 

Krishna Nadella, Deputy Sales and Marketing Director, SFFECO Global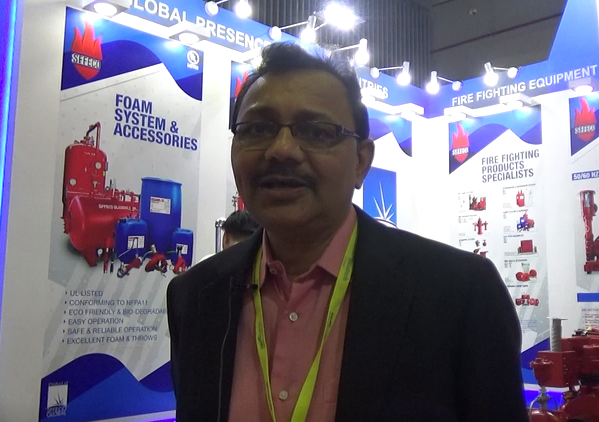 "SFFECO is a firefighting equipment manufacturer based in Dubai and Saudi Arabia. We have 35 years of experience in manufacturing internationally approved firefighting products and systems.
The market is there in Vietnam for firefighting products. Only thing is we need to address the right segment and the right industry. SFFECO products are suitable for the building, construction and industrial fire protection industry. Anything related to fire, we can supply it. We have internationally approved UL-certified fire pumps, which are considered as the heart of the system. SFFECO's international certifications ensure the quality of our products.
We got some introductions and new business because of Secutech Vietnam. We have met with B2B channel partners, industry players and stakeholders from the construction industry. The visitor flow is good and we expect more people tomorrow. We will participate in Secutech Vietnam next year." 

Nguyen Hai Thanh, Vice Director, ABM Distribution (Rifatron)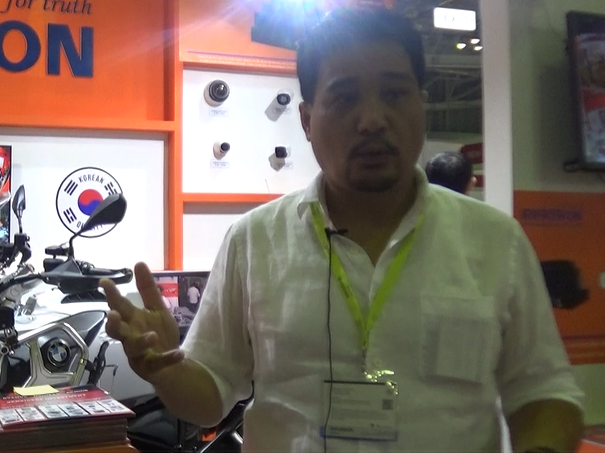 "We are ABM Distribution and represent Rifastron security products here in Vietnam. They have 21 years of experience in the business (and 4 years in Vietnam) offering good, reliable cameras and recorders. Rifastron have been used in a variety of applications from homes, factories to traffic monitoring.
We  offer the complete solution at competitive prices. The camera capture images and videos but we need the software and recorders to process the data. Cameras and recorders are the basis for any smart solutions for homes or cities. These can serve as sensors and for recording footage for future review.

Unlike mature markets like the U.S. where in most cases the CCTV system is already installed and you're waiting 10 to 15 years to replace them, the Vietnam market is growing with a lot of new infrastructure. Residential complexes are going up; traffic systems are not yet complete so there's a lot of room for us to sell our solutions. 

Most of the visitors at the show know us and our products. But we also met new customers that were really interested in what we have to offer. We hope that we can open up new business opportunities at the show."
Visit company page
Radwan Halabi, Sales Director, Export Division, NAFFCO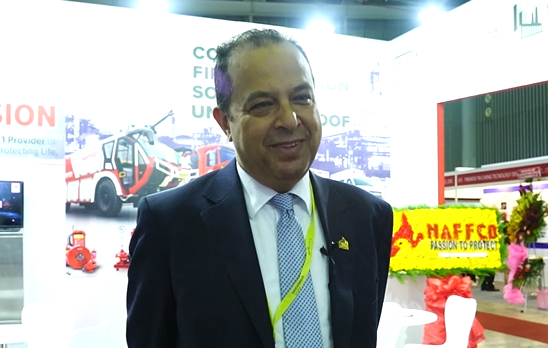 "I come from a company called NAFFCO, a national firefighting manufacturing free zone company. We are a Dubai-based manufacturer of a wide range of firefighting equipment including fire vehicles and other vehicles like ambulances, mobile hospitals and other specialized vehicles. We currently have over 16,000 employee.
New projects, megaprojects and buildings in Vietnam -- these all require certified products and this is where NAFFCO can definitely serve this country without fail. NAFFCO is a total solution. We manufacture everything from raw material. All NAFFCO products are internationally certified like UL/FM and LPCB and we have a lot of other approvals for our products. For malls and high rise buildings, products like fire pumps need to be at minimum internationally UL-certified.

We should not forget the other products like the fire doors, sprinkler systems, detection alarm systems. All these systems are involved as one unit to provide safety for high rise buildings because there isn't time for evacuation. You'll need reliable products and materials.  

To be honest, the show is really good. We are very happy with the service we got from the organizer and would like to say thank you to them. The visitors are very unique and I didn't meet any visitor that isn't related to our product. This is one of the key things for an exhibition." 

Visit company page
Chun Sochet, Managing Director, Intersys Solutions
"My purpose for attending Secutech Vietnam is to find business partners with security and fire safety building solutions that fit our local market. We need partners who can do long-term business. And on the first day alone, I already found one or two suppliers that I feel are a good fit for my business.
The Internet of Things (IoT) is a popular concept in Cambodia. It's very useful for protecting our property and developing smart building solutions. I hope that this will continue to be the direction for future projects in Cambodia.
Secutech Vietnam reflects these latest trends in the market. The speakers at the seminar sessions I've attended know much about products out in the market.

Unfortunately, Secutech cannot be found in Cambodia. I hope that the show organizers will consider holding the show in Cambodia as well so that we would have more time to visit overseas and local exhibitors."

Ngaliman Ng, Regional Sales Manager, KEDACOM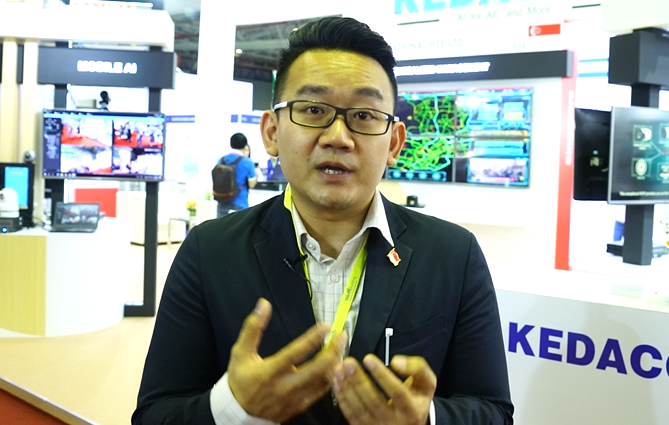 "Thanks to the organizer, this year especially, we got a niche crowd – a lot of people come to us with a direct vision and in a good industry which is what we're looking for, so it's a good opportunity for us to be here.
KEDACOM's main objective in Vietnam will be to move into smart city projects, which we see in Hanoi and HCMC using facial recognition and traffic systems. Vietnam has also been willing to increase security to attract manufacturers and companies to invest in the country. This year at the show, KEDACOM is showcasing solutions for retail, factories and looking into working with integrators for building and residential premises.

Our company's big difference from others is that we provide solutions; not only products. The Vietnam market is looking for solutions. Solutions for human management in terms of facial recognition, traffic management platform to manage traffic jams and redirect vehicles. We have an RND team and a technical team willing to support customers if they need any help." 

Visit company page
Vassil Ivanov, Export Sales Manager, Teletek Electronics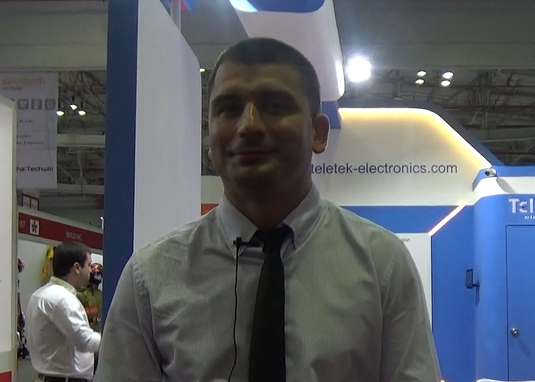 "Our company already has 25 years of history in making alarm systems. Teletek mainly sell two ranges: intruder and fire alarm systems, but also wireless intrusion systems that are in demand in Vietnam.
Addressable fire alarm systems like our IRIS fire panel with its periphery detector, module range and sirens, in particular, is very much valued by clients. We have systems suitable for commercial buildings, factories and other applications.
The fire industry is growing every year in the region. We see the potential in the market and we wanted to make the strongest impact possible. Our brand is not as popular as we wish to be so that's why we need to put in the effort and have a corporate stand this year.

I think the show is getting bigger, better and fancier. To me, it is growing from last year, which is good for the market." 

Visit company page