Your access to Vietnam's security, fire safety and smart building sectors

Sectuech Vietnam is the perfect platform for industry professionals to gather together and exchange ideas and solutions for security, fire safety and smart building & home.
Skip the long line to get your badge, register online and get your badge right away!
Top 5 reasons to attend Secutech Vietnam 2019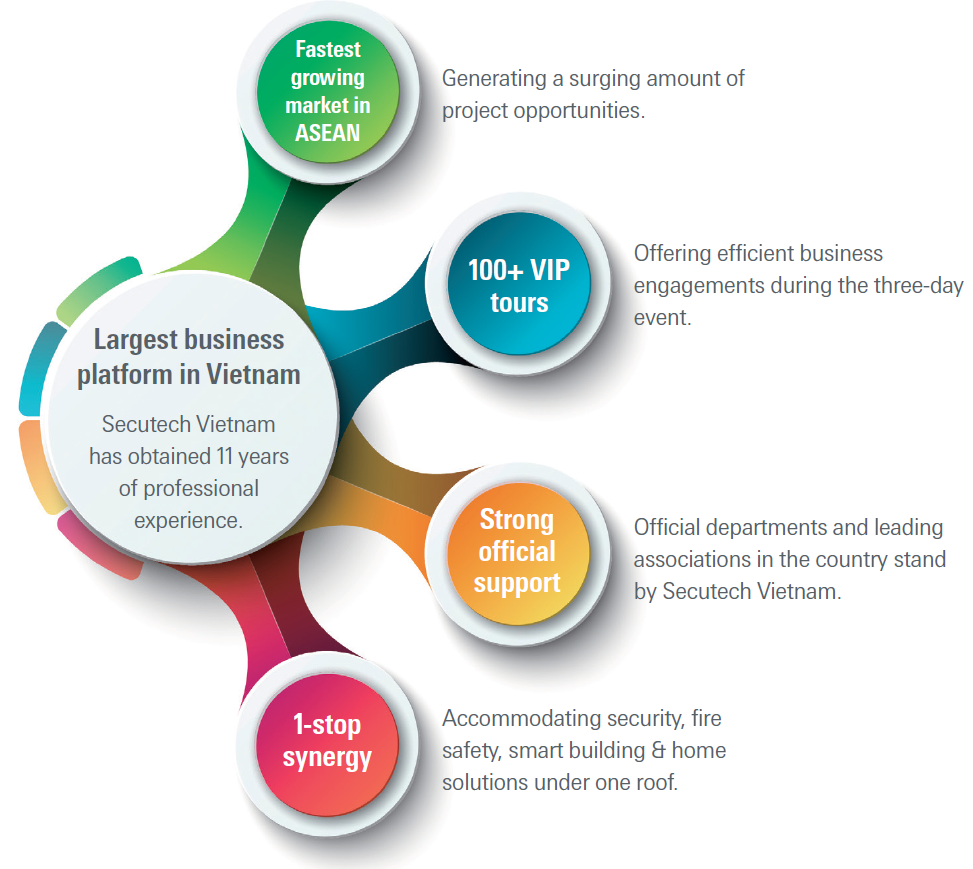 Participant's comments
I am here to find new business partners, suppliers and distributors as well as to learn about smart home products such as surveillance cameras. The products displayed are diversified and of high quality. There are a lot of developments in technologies such as cameras integrated with artificial intelligence technologies. I will join the show again next year.
This is our first time exhibiting at Secutech Vietnam. Our company is newly formed and focuses on offering software solutions for management. The exhibition is a great platform from which to introduce our products to the market. The number of visitors we were able to meet went far beyond our expectations. The customer service was also well organised and clear, which makes setting up for the show much easier.
The scale of the fair is big this year. There are a diverse range of products and innovative technologies. I am mainly looking for information on fire alarm notifications and security camera products. I also visited this exhibition to keep updated on new products and solutions which can serve the projects that I am involved in. I will certainly join the show again next year.
CP Plus has participated in both Secutech India and Thailand, but this is our first time exhibiting at Secutech Vietnam and in the country. Exhibiting here is very important for us to showcase our brand and make people aware of our company. We are satisfied with the exhibition this year because we were able to connect with customers.
I am here to look for fire safety and rescue products such as valve systems. There is a wide variety of products, and I have received consultations from exhibitors with plenty of information. The exhibition helps us a lot to look for new business partners and suppliers as well as to catch up with the industry's development. The level of technology has advanced compared to previous years, with a wide variety of models.
We attend Secutech Vietnam to increase our brand exposure and connect with system integrators, end users, decision makers and technical teams. Bosch has exhibited at Secutech Vietnam several times because it is the only exhibition related to security, safety and fire safety in Vietnam.