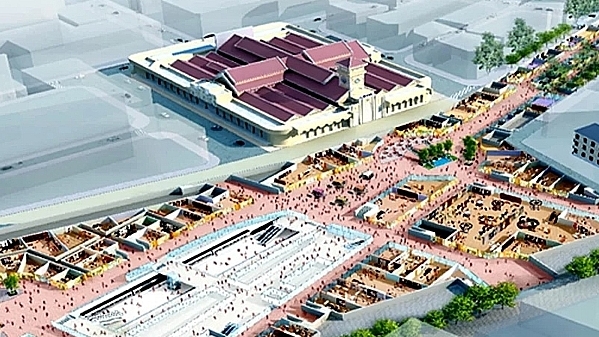 Ben Thanh underground trade centre will be located under Quach Thi Trang Square, at the first basement (B1) of Ben Thanh Metro station 500 metres under District 1's Le Loi street. This means the project is under Ben Thanh market and stretches all the way to Ho Chi Minh City's Municipal Theatre. It will have an area of around 45,000 square metres, including an 18,100sq.m trade centre, and 21,500sq.m of corridors and underground square. It comes with the price tag of VND6.8 trillion ($295.65 million) of total investment.
The project has to be completed at the same time as Metro No.1 (Ben Thanh-Suoi Tien), which is expected to be put into operation at the end of 2021. This is because if the underground trade centre is developed at the same time as Package 1a of Metro No.1, the road and surrounding land will not have to be dug up and filled twice and the metro lines operations will not be hindered.
Ben Thanh underground station is the central hub where most Ho Chi Minh City metro lines converge. When the underground trade center is built and metro lines are finished, the shopping centre will be made easily accessible through all the metro lines stopping right next to it. According to the Japan International Co-operation Agency (JICA), the whole project will cost nearly VND8.4 trillion ($365.22 million). Of this, VND4.98 trillion ($216.52 million) will come from ODA for the city, and VND3.41 trillion ($148.26 million) will come from private-public partnership (PPP) investment. Particularly, the total investment in Ben Thanh underground trade centre is estimated at VND6.8 trillion ($295.65 million).
The venture of Toshin Development Co., Ltd., JOIN, Nikken Sekkei, and Osaka Chikagai is proposed by Ho Chi Minh City People's Committee to be appointed as the developer of the Ben Thanh underground trade centre.

Source: Vietnam Investment Review