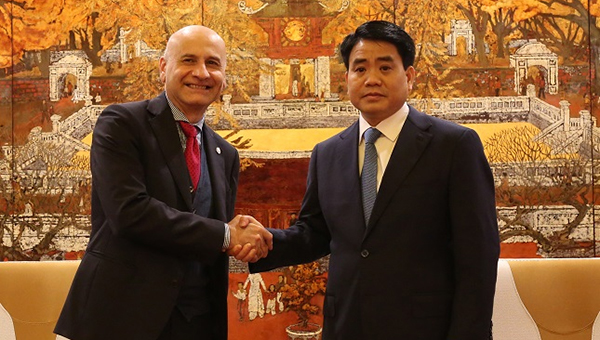 Italy proposed to support Hanoi in the planning of the third urban railway line in the city, said newly-appointed Italian Ambassador to Vietnam Antonio Alessandro.

The ambassador made the proposal at a meeting with Chairman of the Hanoi People's Committee Nguyen Duc Chung in Hanoi on January 15, and hoped the projected will soon be started.
At the meeting, Antonio Alessandro appreciated Hanoi authorities' support for Italian Embassy's activities in the past time and expressed his hope for more assistance in the future.

Proposing for upcoming cooperation, the Italian Embassy in Hanoi will organize the Italian Design Day, with a focus on smart city, and a seminar on cultural heritage preservation on March 22, the ambassador said.

Regarding the Investment Promotion Conference, due to take place in June 2019 in Hanoi, with the participation of roughly 300 Italian enterprises and co-chaired by a former Italian prime minister, the ambassador said that the event will not only be an occasion for businesses of both sides to exchange and seek cooperation opportunities, but also a cultural exchange event. Italy's Ferrari Group is expected to exhibit products at the event, Alessandro added.

For his part, Chairman of the Hanoi People's Committee Nguyen Duc Chung thanked the information shared by the ambassador and wished Antonio Alessandro on his new position to keep supporting Hanoi and promoting the relationship between Hanoi and Italian localities.

Hanoi will work closely with Italy to strengthen cooperation with Italian localities, through cultural exchange events, Chung stressed.

Agreeing with the ambassador's suggestions, the chairman pledged that he will support the upcoming events. Once again, Chung emphasized his desire that the ambassador will be a "bridge" for Italian investment to flow to Vietnam and Hanoi, especially that he would hold investment promotion conferences in the fields of culture and tourism, as well as share Italy's experience on smart urban construction.

Source: hanoitimes.vn