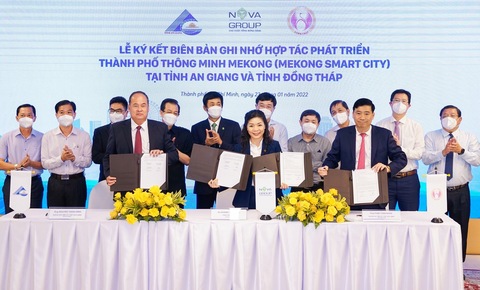 After a period of researching, exchanging and surveying the potential and investment environment in the locality, in the morning of January 23rd 2022, in Ho Chi Minh City, there was a signing ceremony of a memorandum of cooperation between NovaGroup Joint Stock Company cooperating with the People's Committees of Dong Thap province and An Giang province on the development project of Mekong Smart City (Mekong Smart City) in Hong Ngu district, Hong Ngu city (Dong Thap province) and Tan Chau town (An Giang province).
Mr. Bui Thanh Nhon - Chairman of the Board of Directors of NovaGroup Joint Stock Company emphasized that the idea of Mekong Smart City was expected to become an attractive destination for tourism in the Mekong sub-region, a lever to promote socio-economic development of the two localities as well as the Mekong Delta region, gradually creating a model of border urban areas in Vietnam.
Accordingly, the great Mekong Smart City project has 11 component projects including 03 projects to be implemented in the period of 2022 - 2025: (1) Green Dragon smart urban area, estimated scale of 115 hectares; (2) Bui Thanh Thuy Tourism Craft Village, estimated scale of 127 ha; (3) Fruit processing factory, expected scale of 02 ha.
Proposed projects for research and implementation planning include (1) Las Vegas Island, estimated scale of 250 hectares; (2) Mekong seaport (Thuong Phuoc), expected scale of 9,14 ha; (3) Mekong Logistics logistics area, expected scale of 123 ha; (4) Special economic zone, expected scale of 5.300 ha; (5) Mekong village, expected scale 450 ha; (6) Mekong Industrial Park, estimated scale of 1.000 ha; (7) Hi-tech agricultural zone, expected scale of 950 ha; (8) Civil and cargo airport, AI Technology Park, estimated area of 2.000 ha.
Source: NovaGroup